No outfit post today, but rather I want to give a sneak peek on two recent purchases I made online! Well, 3 if you count glasses.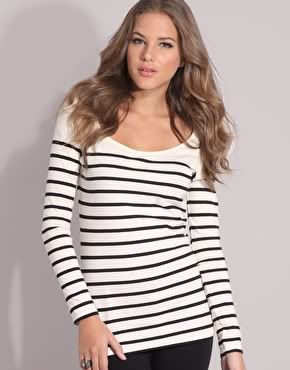 My first purchase was this striped long-sleeve from ASOS. I first saw a similar top at Zara in Florida. First, I have to tell you, in Winnipeg there is no Zara so it's REALLY painful for me (figuratively speaking, of course) that there's none here. It's absolutely my favourite store. Anyway, I saw that dream sweater of mine a few months ago and I was dying to have it. Unfortunately it didn't have the size I wanted so my dreams were crushed. Then when I returned to Canada my co-worker was wearing the exact same shirt! Ah. It made me frustrated and I searched EVERYWHERE... the mall, individual stores, online and thrift stores. Nothing. Until I searched ASOS and found this beauty.
I can see myself wearing this in all the seasonal months. I've always been a long-sleeve person anyway, no matter which season it is. I mean... this top is pretty versatile. I can wear it with jeans, with shorts, tucked into a skirt and whatnot. If done appropriately you could pair a lot of colours with this top as well.
People are going to hate on the stripes but all I gotta say is haters, keep hating. I don't care what size I am, I'm going to wear stripes (and it's WHITE of all things) whether you guys snicker and sneer all you want.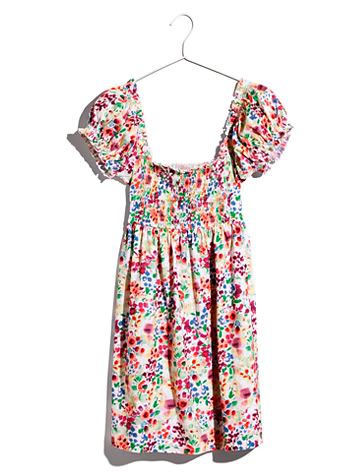 When I heard the press about the Garden collection from H&M I was immediately attracted to this dress when I saw the press photographs. Again, it makes me angry that there's no H&M in this blasted city... yet. So I silently weeped and kind of forgot about it until I saw it on
CurvyGirlChic
my love got rekindled and now I knew I had to absolutely buy it. Well, I broke down and bought it from eBay. I'm eagerly awaiting what the postman has in store for me!
I would pair this dress with some strappy sandals. It's got a very spring look. Also, I love florals. I love tacky floral prints. I love colour. I love white. Above all, I love dresses. Yup, this dress has it all for my aesthetic. I totally feel like Little Asian on the Prairie with this dress, haha!

My last purchase is a pair of specs from Zenni Optical. You guys won't believe how much I spend on glasses every 2 years. My prescription is a whopping -6.25 and to top it all off, I have astigmatism. Contact lenses irritate my eyes and whether or not I decide to use glasses or contacts, the bill is still steep. I bought a pair of Dolce and Gabanna glasses recently and while they're fun, sometimes those glasses aren't appropriate for some outfits. I have another pair of glasses already, but I ordered another pair for those days I don't want to be stared at because I'm wearing "hipster glasses." For 8,00$ and some extra fees the purchase came under $40! It's not bad compared to my usual bill of over 500,00$...
So after these purchases my wallet is kind of mad at me. For privacy sake (and my mother or family, as much as I don't want them to... you know, read my blog) I won't state the prices but for the sake of having nice things, I'm willing to make a small sacrifice. I'm just eagerly awaiting a job because contrary to some beliefs, it isn't fun being unemployed. :(
Also, thanks for following me! I'm happy I even have followers in a small span of time. Tell your friends! Haha.