Well, no OOTD post today because I was pooped after my exam and took a nap. So I didn't take any pictures and honestly, I was a mess. Haha! Anyway. I'm procrastinating yet again... the life of a university student, LOLZ. I've been pretty bad at studying right nowwww. Actually, some of you asked how my exam was for Classics today and I think I kind of blanked out at all the Latin terms. I totally underestimated the amount of Latin terms my professor would use... but I wrote an essay and I think I did good. Tomorrow is my psychology final (thankfully not cumulative) and I think I'll be fine. Hopefully.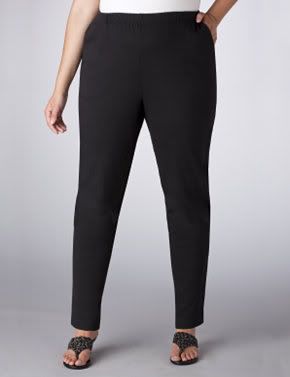 So when I saw those Fashion Bug trousers on
Jen
I totally had to have them. Black skinny fit? Comfortable? CHEAP? YES PLEASE. It was only 23,00$ with shipping. When I was about to buy them... argh, they don't ship to Canada! Why the hell not?! I got disappointed quickly because I was so ready to buy it! Then I was searching on eBay and found these beauties: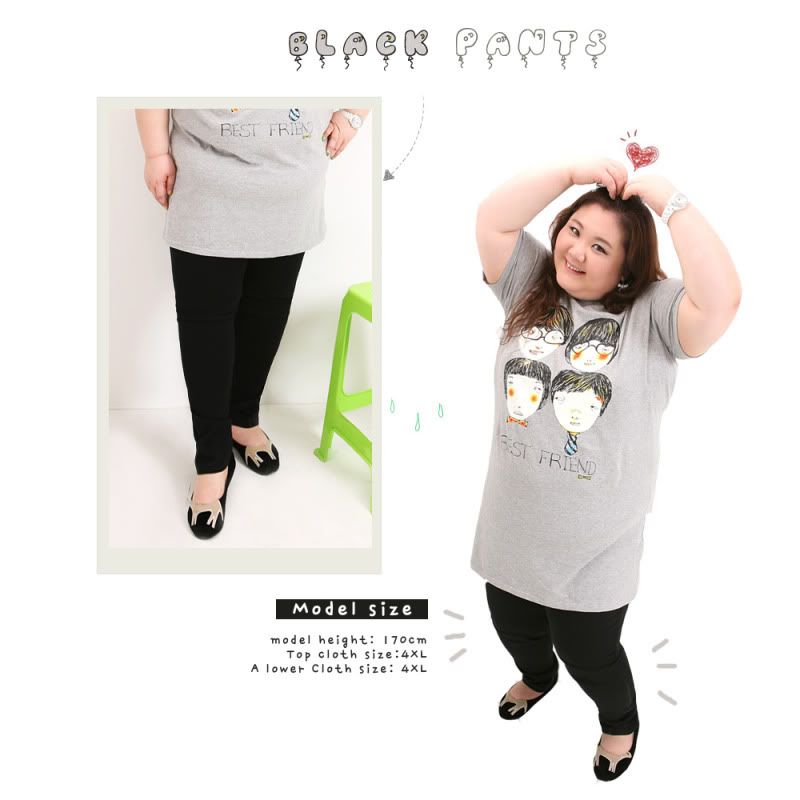 First of all, if you guys haven't noticed already, I love Korean fashion. Well, "fob" fashion as the locals call it. It's cute and trendy. I often whine about there not being enough of those for us bigger people! When I found
Gabigkr
eBay store it was like a message sent from God above, LOL! What I love is that they used a PLUS SIZE model instead of a skinny Korean girl so we can see how it looks on plus size girls! The pants were 36 dollars but I really wanted a pair of black skinnies. So there it is. Another purchase.
If you look on Gabigkr's shop it's decently priced. Dresses from 50 dollars, pants from 20 dollars and a lot of cute graphic shirts (if you're into that sort of thing) from 10 dollars. In my opinion that is a STEAL. And they offer pants and belts that fit the hips! The measurements should be on the item descriptions... but according to the model description she is 5'6" ... I have no idea how it fits YET but since it's a Korean store I'm betting it's for shorter women. You never know, though, some retailers like to make bigger sizes and then make it for totally tall people. I hate having to shop at 5'5", you'd think I'd fit in the regulars section but the regular inseam is still too much for me. I have to shop at petites.
Anyway, yup... this is definitely a shop I'm going to shop at when I have the funds.
Speaking of which, I'm a transcriber for my local University that I go to and sadly, I work only from September to late March. So when my boss e-mailed me asking if I needed a job, I immediately took it. A student needed a transcriber. It's REALLY good money and I'll be doing it everyday from May until June. It'll get me some income until I find an actual stable summer job or even permanent part time.
Sigh, I'm not looking forward to the hassle of student loans and all that tuition/registration crap again. :(
I also have questions for my readers. What would you like to see from my blog? Do you want it to be soley outfit posts? Do you want me to include little blurbs of my life? Should I ramble about political (of course, has to do with plus size) issues? Or do you want a bit of everything? (Outfit posts, wishlists and whatever has been going on in this blog recently!) Let me know. I'd love to get feedback!
On my 100th follower I will hold a giveaway from one of my Korean/Chinese wholesale shops I loyally shop at, stay tuned!