Hello everyone! I'm pleased to announce that I'm doing 3 giveaways! My first items up for grabs are these
Ricki's
bubble hem skirts. :) I snagged myself one and I want to give two lucky readers the opportunity to have one! This is completely sponsored by me. I had bought these skirts actually a few weeks back but I wanted to do a series of giveaways so I waited until I got more stuff.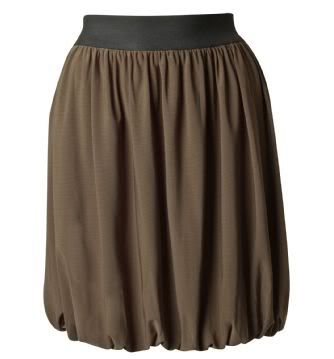 So up for grabs is
two
Ricki's skirts, but two lucky readers will get one of the two. They're different colours: black (not pictured sorry guys, my camera is dead so this stock picture will have to do) and this nice olive green.
The size for the black skirt is XXL (equivalent size 18) and the second one is XL (Size 14-16 equivalent). However, these skirts have an elastic waistband and can fit a variety of sizes. It also looks good with tights and worn high waisted -- it looks cute! XXL can fit an XL size for sure (at least a size 14) and an XL can fit a size 12 and upwards to a size 18 even. Just giving you a reference of sizing! (I believe Ricki's does run large, since this skirt is elastic I could guess the black skirt could even fit comfortably a size US 24!) So the sizing is pretty flexible.
All you have to do is comment with your name and e-mail, and what skirt you want! For fun, I want to see how you'd wear the skirts and what you'd pair it with! However, all people that apply in this giveaway are entered for
both
the skirts.
For additional entries:
Advertise on Twitter: Hello everyone, @gazelma is holding a giveaway for 2 bubble hem skirts! Check it out at http://bonjourgazel.com !
Follow me on Twitter. Please state your Twitter name.
Follow my blog via google reader.
Follow me on my Facebook page (which can be found on the left side of the blog!), please state your name when doing so.
Alright! This one will end in a week from now, then next week I will launch my second giveaway! Good luck to all!
Thank you for supporting me and my blog! It means a lot.
Edit:
For clarification -- EVERYONE in the world can enter this giveaway! But please leave your name and e-mail on the comments.
And there's only two colours... the Black one is size XXL and the Green one is XL. There is no black XL or Green XXL, etc.
The sizes are generous. Since the waistband itself is smaller and it stretches, XXL actually could fit a 14 to size 24 US. The XL could fit size 12 to 18/20, etc.
If you have anymore questions please ask!